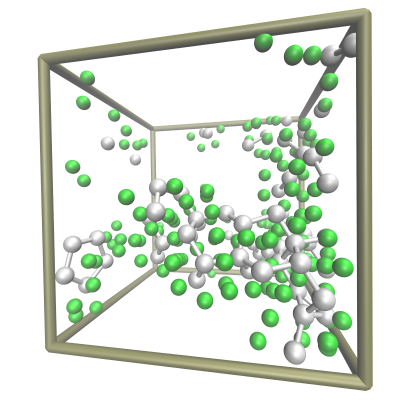 The CUDA project has enabled scientists to utilize NVIDIA's many-core Graphical Processor Unit (GPU) to solve complex computational problems. Beside being a very fast processor the GPU is relatively cheap, and is thus an ideal computational unit for low-cost high-performance supercomputing.
RUMD is a high-performance molecular dynamics simulation software package for NVIDIA's GPU. RUMD is optimized for simulating small to medium size systems composed of spherical particles, as well as molecules.
RUMD consists of a library, easy-to-use Python interface, and a set of post-simulation data analysis tools.
RUMD is developed at the Danish National Research Foundation centre Glass and Time. RUMD is released under GNU General Public License with some exceptions.
Latest News
2022-08-03

09/04 - 2020

21/05 - 2019

21/07 - 2017

02/06 - 2016

27/04 - 2016

16/03 - 2015

16/02 - 2015

23/06 - 2014

09/12 - 2013

12/09 - 2013

04/06 - 2013

31/05 - 2013

29/06 - 2012

29/05 - 2012

14/01 - 2012